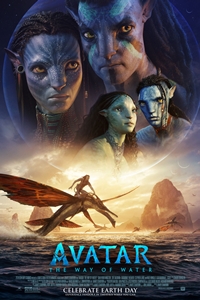 "Avatar The Way of Water" begins to tell the story of the Sully family (Jake, Neytiri and their kids), the trouble that follows them, the lengths they go to keep each other safe, the battles they fight to stay alive and the tragedies they endure.

Experience Avatar: The Way of Water in LASER ULTRA, the ultimate in sight, sound and comfort. Look for the LASER ULTRA icon when purchasing your tickets, exclusively available at the MJR Brighton Cinema!
Action/Adventure
3 hr 12 min
Opened December, 23rd 2022
PG-13 for for sequences of strong violence and intense action, partial nudity and some strong language.
Zoe Saldana
Sigourney Weaver
Sam Worthington
Stephen Lang