Zookeeper's Wife, The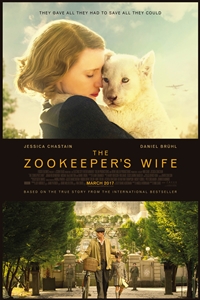 The real-life story of one working wife and mother who became a hero to hundreds during World War II. In 1939 Poland, Antonina Zabinski and her husband, Dr. Jan Zabinski, have the Warsaw Zoo flourishing under his stewardship and her care. When their country is invaded by the Nazis, Jan and Antonina are stunned - and forced to report to the Reich's newly appointed chief zoologist, Lutz Heck. To fight back on their own terms, the Zabinskis covertly begin working with the Resistance - and put into action plans to save lives out of what has become the Warsaw Ghetto, with Antonina putting herself and her family at great risk.
Drama
2 hr 04 min
Opened March, 31st 2017
PG-13 for for thematic elements, disturbing images, violence, brief sexuality, nudity and smoking.
Jessica Chastain
Johan Heldenbergh
Daniel Brühl
Michael McElhatton
Angela Workman, Diane Ackerman