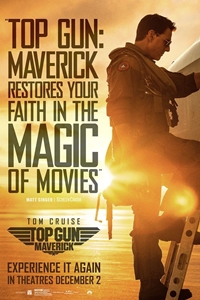 After more than thirty years of service as one of the Navy's top aviators, Pete "Maverick" Mitchell is pushing the envelope as a courageous test pilot. Facing an uncertain future and confronting the ghosts of his past, Maverick is drawn into a confrontation with his own deepest fears, culminating in a mission that demands the ultimate sacrifice from those who will be chosen to fly it.
Action/Adventure
2 hr 11 min
Opened December, 2nd 2022
PG-13 for for sequences of intense action, and some strong language.
Tom Cruise
Miles Teller
Jennifer Connelly
Jon Hamm
Glen Powell
Lewis Pullman
Ed Harris
Val Kilmer
Ehren Kruger, Eric Warren Singer, Christopher McQuarrie