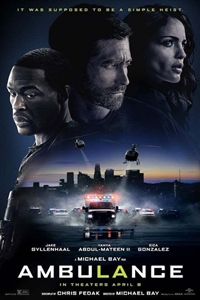 Decorated veteran Will Sharp, desperate for money to cover his wife's medical bills, asks for help from the one person he knows he shouldn't - his adoptive brother Danny. A charismatic career criminal, Danny instead offers him a score: the biggest bank heist in Los Angeles history: $32 million. With his wife's survival on the line, Will can't say no. But when their getaway goes spectacularly wrong, the desperate brothers hijack an ambulance with a wounded cop clinging to life and ace EMT Cam Thompson onboard. In a high-speed pursuit that never stops, Will and Danny must evade a massive, city-wide law enforcement response, keep their hostages alive, and somehow try not to kill each other, all while executing the most insane escape L.A. has ever seen.
Suspense/Thriller
2 hr 16 min
Opened April, 8th 2022
R for for intense violence, bloody images and language throughout.
Jake Gyllenhaal
Yayha Abdul-Mateen II
Eiza González