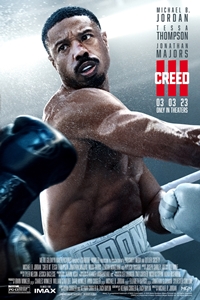 Adonis Creed has been thriving. When a childhood friend and former boxing prodigy, Damian, resurfaces after serving a long sentence in prison, Adonis must put his future on the line to battle a fighter who has nothing to lose.

Experience Creed III in Laser Ultra, the ultimate in sight, sound, and comfort. Look for the LASER ULTRA icon when purchasing your tickets, exclusively available at the MJR Brighton Cinema!
Drama
1 hr 57 min
Opened March, 3rd 2023
PG-13 for for intense sports action, violence and some strong language.
Michael B. Jordan
Tessa Thompson
Jonathan Majors
Wood Harris
Florian Munteanu
Phylicia Rashad
Keenan Coogler, Zach Baylin