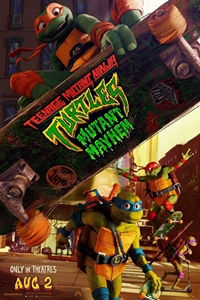 After years of being sheltered from the human world, the Turtle brothers set out to win the hearts of New Yorkers through heroic acts. They take on a mysterious crime syndicate, but soon get in over their heads when an army of mutants is unleashed upon them.
Animation
1 hr 39 min
Opened August, 31st 2023
PG for for sequences of violence and action, language and impolite material.
Micah Abbey
Shamon Brown Jr.
Hannibal Buress
Rose Byrne
Nicolas Cantu
John Cena
Jackie Chan
Ice Cube
Natasia Demetriou
Paul Rudd
Seth Rogen, Evan Goldberg, Jeff Rowe, Dan Hernandez, Benji Samit