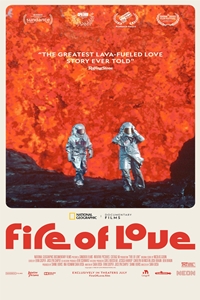 Intrepid French scientists Katia and Maurice Krafft devoted their lives to uncovering the mystery of volcanoes, chasing fire around the world and in the process capturing some of the most spectacular imagery of the earth ever recorded. Told through the lenses of this magnetic couple, FIRE OF LOVE is a visual romance that takes place on an intimate and awesome scale, exploring how their shared passion enabled pioneering research in the 1970s and 80s that helped save lives, but ultimately ended their own.

Directed by Sara Dosa and narrated by Miranda July, this lyrical archival collage pulls from hundreds of hours of rare and never-before-seen footage and photographs shot by the Kraffts, channeling the humor, affection, and insatiable curiosity that was integral to their partnership and which left behind a legacy that has forever enriched our understanding of the natural world.
Documentary
1 hr 33 min
Opened July, 6th 2022
PG for for thematic material including some unsettling images, and brief smoking.
Miranda July
Katia Krafft
Maurice Krafft