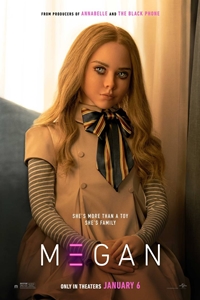 A toy company who uses artificial intelligence to develop M3GAN. After unexpectedly gaining custody of her orphaned niece, Gemma enlists the help of the M3GAN prototype - a decision that has unimaginable consequences.
Horror
1 hr 41 min
Opened January, 11th 2023
PG-13 for for violent content and terror, some strong language and a suggestive reference.
Allison Williams
Jenna Davis
Amie Donald
Violet McGraw
Ronny Chieng
Brian Jordan Alvarez
Arlo Green
Jen Van Epps
Kira Josephson
Jack Cassidy