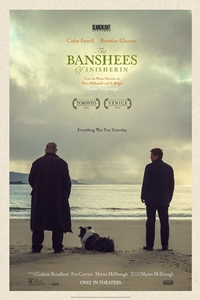 Lifelong friends Pádraic and Colm find themselves at an impasse when Colm unexpectedly puts an end to their friendship. A stunned Pádraic endeavours to repair the relationship, but his efforts only strengthen Colm's resolve and lead to a chain of events with shocking consquences.

Drama
1 hr 54 min
Opened November, 4th 2022
R for for language throughout, some violent content and brief graphic nudity.
Colin Farrell
Brendan Gleeson
Kerry Condon
Berry Keoghan