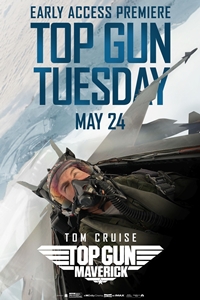 Top Gun Tuesday Early Access Premiere is a one-night only event presented in participating premium large format theatres. Fans are among the first to experience Top Gun Maverick. days before release. Exclusive gifts with every ticket purchase.
Action/Adventure
2 hr 17 min
Opened May, 24th 2022
PG-13 for for sequences of intense action, and some strong language.
Tom Cruise
Miles Teller
Jennifer Connelly
Jon Hamm
Glen Powell
Lewis Pullman
Ed Harris
Val Kilmer
Ehren Kruger, Eric Warren Singer, Christopher McQuarrie