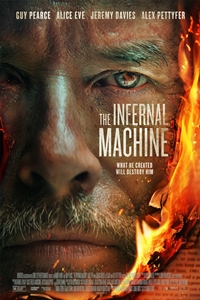 Bruce Cogburn, a reclusive and controversial author of the famed book The Infernal Machine, is drawn out of hiding when he begins to receive endless letters from an obsessive fan. What ensues is a dangerous labyrinth as Bruce searches for the person behind the cryptic messages... forcing him to confront his past and ultimately revealing the truth behind The Infernal Machine.
Suspense/Thriller
1 hr 57 min
Opened September, 23rd 2022
R for for language and some violence.
Guy Pearce
Alice Eve
Alex Pettyfer
Jeremy Davies
Iris Cayatte