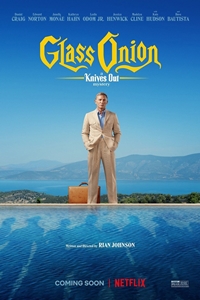 Benoit Blanc returns to peel back the layers in a new Rian Johnson whodunit. This fresh adventure finds the intrepid detective at a lavish private estate on a Greek island, but how and why he comes to be there is only the first of many puzzles.
Suspense/Thriller
2 hr 19 min
Opened November, 23rd 2022
PG-13 for for strong language, some violence, sexual material and drug content.
Daniel Craig
Ethan Hawke
Jessica Henwick
Madelyn Cline
Edward Norton
Katherine Hahn
Dave Bautista
Kate Hudson
Janelle Monáe
Leslie Odom Jr.