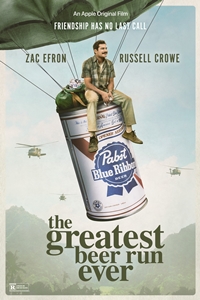 To show support for his neighborhood friends serving in Vietnam, Chickie Donohue decides to do something totally outrageous: travel to the frontline by himself to bring the soldiers a little piece of home - their favorite can of American beer. However, what started as a well-meaning journey quickly turns into the adventure of a lifetime as Chickie confronts the reality of this controversial war and his reunions with his childhood buddies thrust him into the complexities and responsibilities of adulthood.
Drama
2 hr 06 min
Opened September, 30th 2022
R for or language and some war violence.
Zac Efron
Russell Crowe
Bill Murray
Kyle Allen
Jake Picking
Will Hochman
Archie Renaux
Kristin Carey
Pedro Correa
Will Ropp
Brian Hayes Currie, Peter Farrelly, Pete Jones