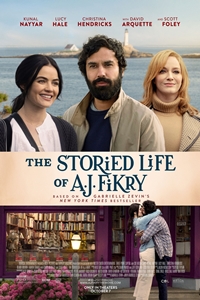 Based on the New York Times best-selling novel, bookstore owner A.J. Fikry's life is not turning out as he expected as he struggles both emotionally and financially. After his wife's tragic death, he feels lost and left behind in the rapidly evolving world of today. As he tries to keep his store afloat, he begins to drink his sorrows away, ultimately hitting rock bottom when his most prized possession, a series of Edgar Allen Poe poems, are stolen. But when a mysterious package appears at the bookstore, the unexpected arrival gives Fikry a new lease on life, and love, that are greater than he ever imagined.
Comedy
1 hr 41 min
Opened October, 7th 2022
PG-13 for for brief strong language, some suggestive material and thematic elements.
Kunal Nayyar
Lucy Hale
Christina Hendricks
Scott Foley
David Arquette
Lauren Stamile
Mia Sinclair Jenness
Alicia Kelley
Miranda Roldán
Chandra Michaels