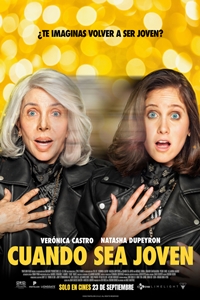 An adaptation of the Korean film Miss Granny, Cuando Sea Joven tells the story of 70-year-old Malena (Verónica Castro), who gets a second chance at life when she magically becomes her 22-year-old self. This time, posing as "Maria" (Natasha Dupeyrón) to hide her true identity, she becomes the lead singer in her grandson's band trying to reclaim the dream of singing, the dream she once had to give up.
Comedy
1 hr 55 min
Opened September, 23rd 2022
PG for for some suggestive material, language and thematic elements.
Verónica Castro
Natasha Dupeyrón
Daniel Garcia
Manuel 'Flaco' Ibáñez
Pierre Louis
Michael Ronda
Eduardo Santamarina
Antonio Sotillo
Edgar Vivar
Juan Carlos Garzón, Angélica Gudiño