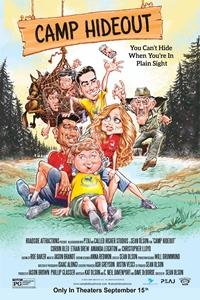 Mischievous foster teen Noah (Ethan Drew) finds himself in trouble again. After one such petty crime and crossing paths with two foes, he chooses summer camp over juvenile hall. Upon arrival, Noah quickly comes to realize the camp's notorious owner, Falco (Christopher Lloyd) and his dog Lazaraus ironically loathe children. The double whammy takes a turn as Jake (Corbin Bleu), an optimistic camp leader, lifts Noah's pessimistic attitude. The friendship snowballs for the good as Noah opens up to fellow campers and together they bond in all the fun and memorable ways camp offers. When all seems well, the bad guys show up at camp in search of Noah to take back what he stole. Together, Noah and his fellow campers band together to construct a funhouse hideout in the woods, packed with booby traps, zip lines, and bees. In a change of heart, cold-hearted Falco warms to the campers, and steps in to help; and together they all learn a valuable lesson of sticking together.
Family
1 hr 40 min
Opened September, 15th 2023
PG for for slapstick violence and thematic elements.
Corbin Bleu
Ethan Drew
Amanda Leighton
Christopher Lloyd